Challenge
Biologically, human lips is a tactile sensory organ that can be an erogenous zone when used in kissing and other acts of intimacy. Culturally, lips are considered the most sensual body part in women. Can sex appeal exist outside of a human body?
Inspiration
(Image courtesy of Diller Scofidio + Renfro)
Soft Sell was a video installation by Diller Scofidio of a gigantic female lip soliciting passersby with her sensuous voice in the entrance to an abandoned porno theater on Times Square in 1993. The piece delivers a powerful message due to its location and its relation to the neighborhood in that specific time and also the choice of visual display. Pornography predominantly consists of actresses alluring male audience hence I speculate that Soft Sell would not have been effective if it uses a pair of masculine lips.
Research
As a woman, there is always an expectation to be attractive that is more or so being pushed by the opposite sex. There are a lot of articles and studies on sex appeal that is commonly found being applied on actresses, female models and celebrities in fashion commercials and film.
Observation
Many of the research pivot around women's lips. Full lips are seen a female characteristic and are considered full of sexual promise. Femme fatale, an archetype of an attractive and seductive woman, tend to make their lips appear wet naturally or through cosmetics to suggest sexual potential. Studies also found men gazed the longest at women wearing red lipstick because they considered it most attractive.
Ideation
(Image courtesy of Maple ASMR)
Going further into the research, I came across multiple ASMR videos on YouTube of close up shots of young women chewing gum and blowing bubbles. I was intrigued by all these different gestures performed on women's lips that can evoke sex appeal and was curious about whether or not this sensation can exist outside of an actual female body. I decided to create a pair of seductive lips that produce the action of blowing a bubble.
Prototype
I began prototyping by creating a mini mold of the shape of a pair of lips with Rhino.
3D Printing
Printed the model with Ultimaker 2+
Casting
I then casted with Silicone leaving a bubble in the center for inflation.
Problem
I made the bubble in the center too small and didn't leave room for the air pump to go in hence the bubble was barely inflating.
Iteration II: material exploration
I began experimenting with shape and material. I tried out sculpting with styrofoam and non-hardening modeling clay.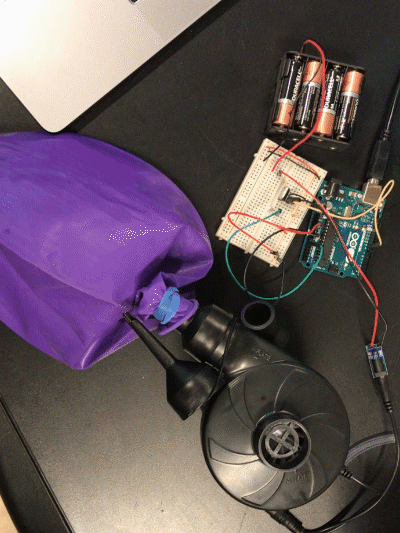 Iteration II: mechanism
I built a photocell controlled power system. The electric air pump will turn on and off based on the light the sensor receives.
Iteration II: problem
The balloon was inflating and deflating fine but I couldn't figure out a way to have it sucked back into the mouth without breaking the lips.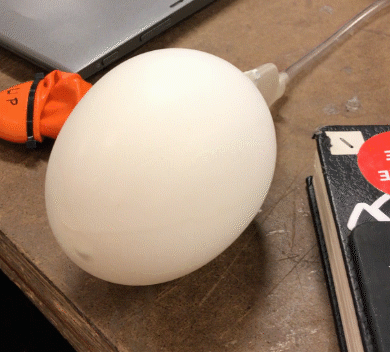 Iteration III: Programmable Air
I discovered Amitabh's Programmable Air, which solved the issue I was facing in my iteration. I spoke with Amitabh and he kindly let me use his invention for my project.
Iteration III: Application
I decided to apply this pair of lips to a female styrofoam head.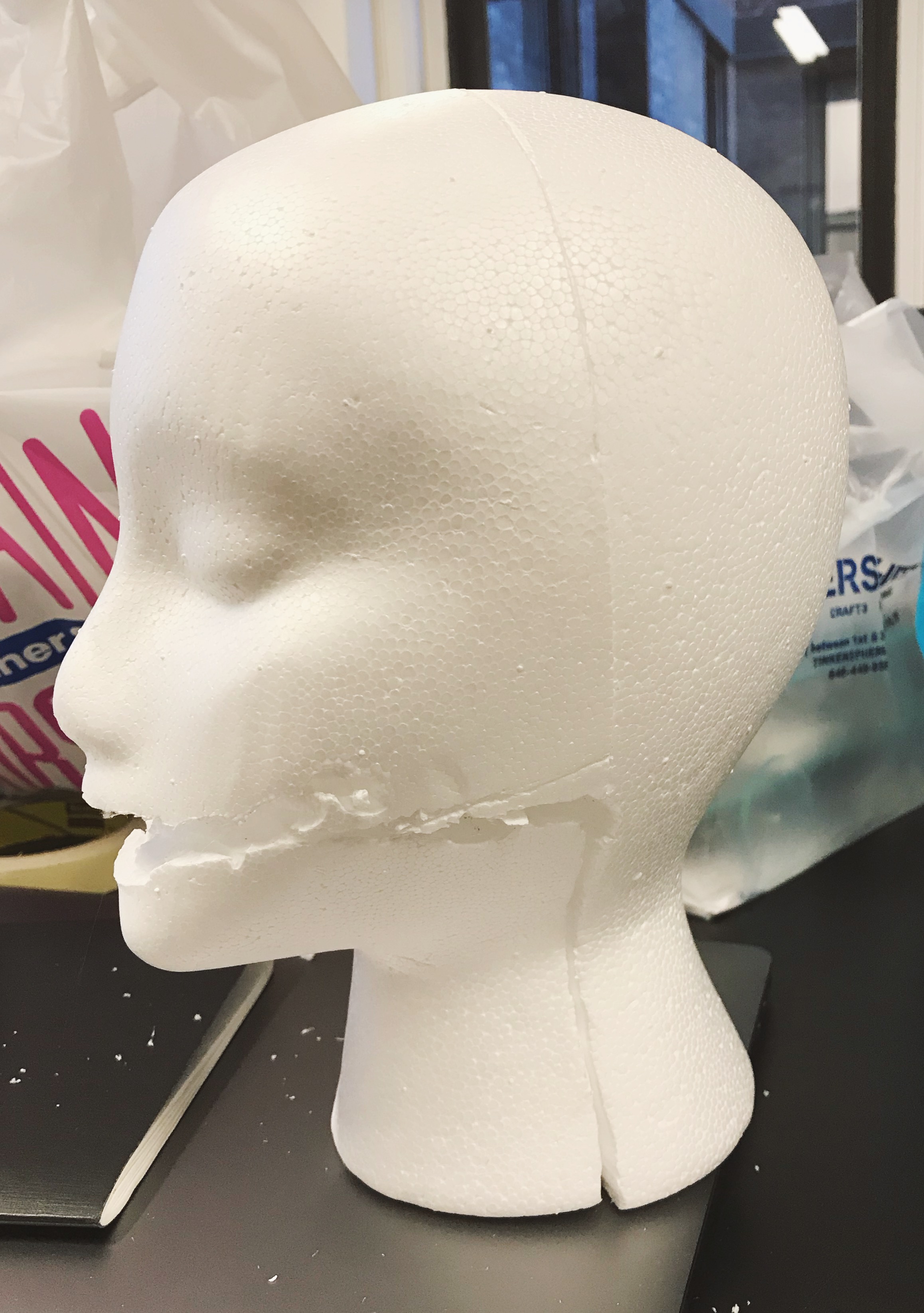 Iteration IV: Sculpting with Styrofoam
Amitabh and I decided to slice the styrofoam head and mouth in halves so that we could insert electronics to the center. We made our own wire cutter but our first attempt turned out to be quite ugly. We then made another wire cutter with accurate measurements and delivered a pretty clean cut.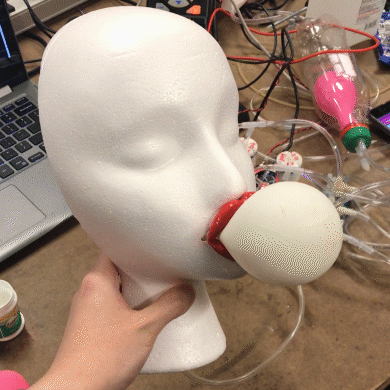 Iteration V: non-hardening clay
I used non-hardening modeling dough for 5th iteration and the lips fell off right away.
Iteration VI: Paper clay
I switched to paper clay with wireframe underneath so that I can poke the wire into the styrofoam to hold the two materials together.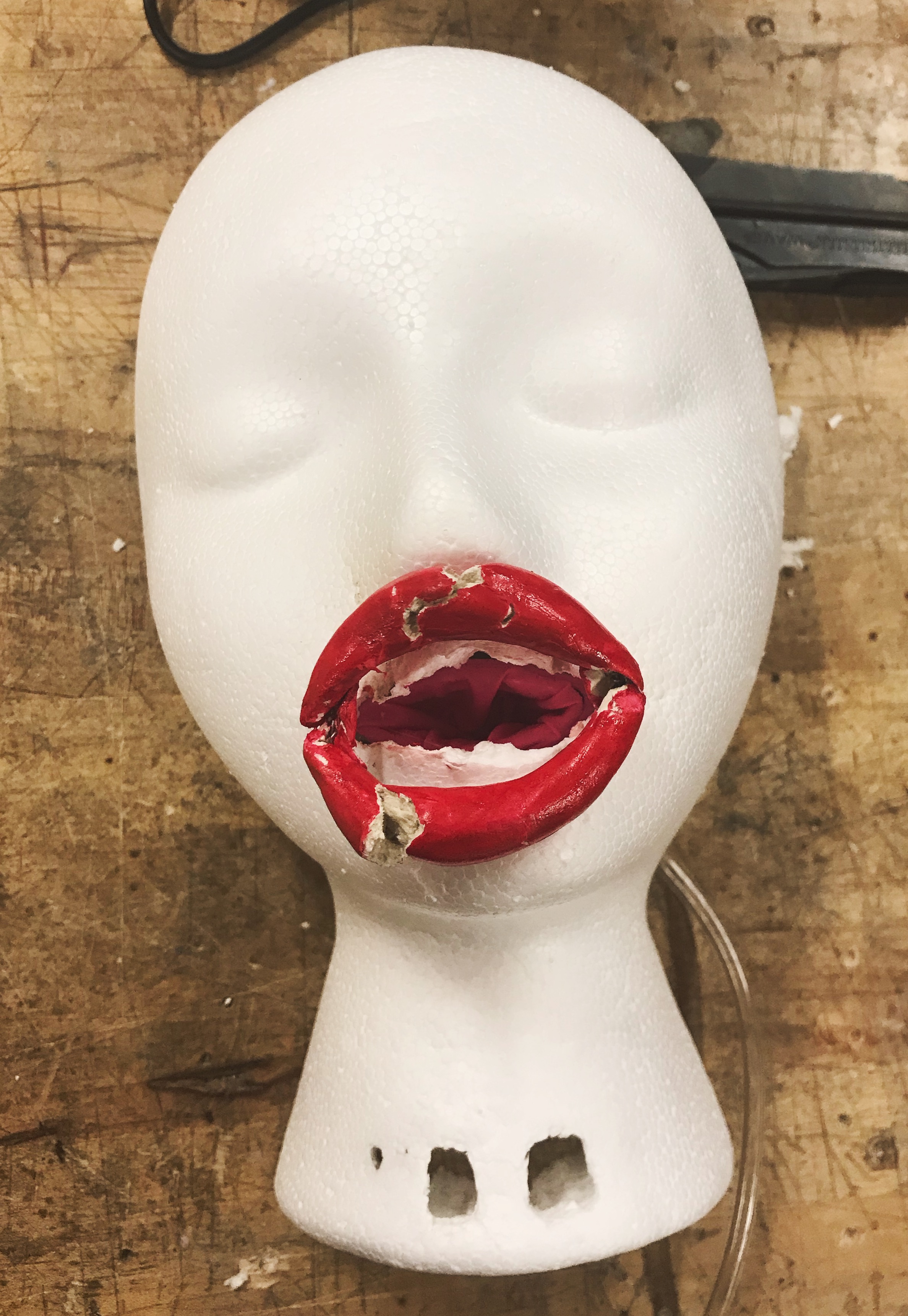 Iteration VI: problem
The air pressure from the balloon was much higher than expected and broke the lips.
Iteration VII: Solution
We arrived at a conclusion that a flexible material like rubber, silicone or sugru will probably be the best for this project. However, we discovered this too late and did not have time to access these materials. Alternatively, we could also make a pair of lips that are hard and strong that won't be affected by the air pressure - Epoxy was the answer.
Iteration VIII: Epoxy + Wireframe
I used epoxy with a new wireframe with long wire legs so that I can wrap the wire all the way to the other end to secure lip placement.
Iteration VIII: Red lips
I painted the lips in glossy red.
Interaction
Amitabh programmed the IR distance sensor as a control for his programmable air. The bubble inflates when the user approach the sculpture and deflates and vacuums when doing the reverse.
Reflection
This hyper gendered sculpture appeared to be peculiar rather than attractive to most people even though it has a pair of "sexy" lips performing a sensual act.
There are many ways to interpret this project and there is no right or wrong. For me, I hope to deliver my message through Foxy Lovelace to encourage women to be content with themselves.
Next Step
I didn't expect the air pressure from the balloon to be that strong that can easily destroy the lips. My next stop is to change the lip material back to silicone or other flexible material such as sugru. I would also consider adding other sexual gestures such as a wink.