Challenge
The current state of virtual reality is often limited to single user experience. Can we overcome this restraint by juxtaposing VR with the unconventional 120' by 11' aspect ratio of IAC Building Ground Floor Lobby's Video Wall and create a 5 minute immersive experience that is accessible to a large audience within two months?
Goal
As a team of 4 creatives from NYU Tisch School of the Arts with expertise in emerging technology, video, acting and dance, we all believed that concept comes first. Whatever the outcome, our piece must have a story behind.
I took on the Art Director & Technical Producer role with Fanni. Our main responsibility was to produce everything visual, from storyboards and documentations to marketing campaigns and the final deliverable.


Ideation
We brainstormed based on our common interests in digital capitalism and how virtual reality is re-shaping humanity and came up with three stories as our responds to the topics.
Meanwhile, we composed 400 visuals to test out various compositions on screen.



Storyboard I & II
To illustrate how being different in the society can be painful, we set both story I and II in an autocratic society.
A group of performers as workers in VR headsets first performed in simple unison movement in front of the screen. They slowly entered the virtual world through the column one at a time. The last worker, by choice in one scenario and by chance in the other, decided to break the pattern and was then being punished by the omnipresent authority of the system.
Storyboard III
Story III was lead by only one performer running on a treadmill in a VR headset in front of the screen. The performer's point of view was presented on screen where the audience could see him running through different virtual spaces while competing against copies of himself.
In this version, we addressed how technology is replacing and affecting the physical world by using a nude protagonist as a representation of the dichotomy between body cult, while at the same time neglecting the reality.
Iteration I
After many on-site discussions and testings, we arrived at a conclusion that Story III was the most suitable due to several reasons:
1. Lower risk and budget as it involves only one performer who we have already found a candidate.
2. Single focal point helps guiding audience on where to focus on a wide screen as it could be confusing and overwhelming.
3. Allows the audience to see what the VR player is seeing which reinforce the idea of digital intimacy and social isolation.
We began iterating on Storyboard III we previously made.
Storygraph
We listed all the crucial moments and designed our narrative arch.








Iteration II
Based on the notes we took from on-site testing and the feedback we received from peers, we narrowed down the list of landscapes our performer would be running through and specified his drive to run.
Outreach
Our priority then was to find our protagonist who would be leading the performance. I brought Jake, a close friend of mine who I thought would be an ideal candidate, onto the team. With help from LaGuardia Studio, I got a high resolution 3D scan of Jake for production.
Prototype
Using Unreal Engine 4 (UE4), Fanni and I did a mock up of four different spaces for Jake to run through: an open field with a sudden drop, a room of Escheresque stairs, a bridge and a tunnel.
We realized through this prototype that in order to reinforce our intention behind the piece, there needs to be a common thread that ties the four spaces together.
After many group discussions, we decided to set our world in a shopping mall that contains the same movements of going down, up and forward (from the parking lot to the inside of the mall).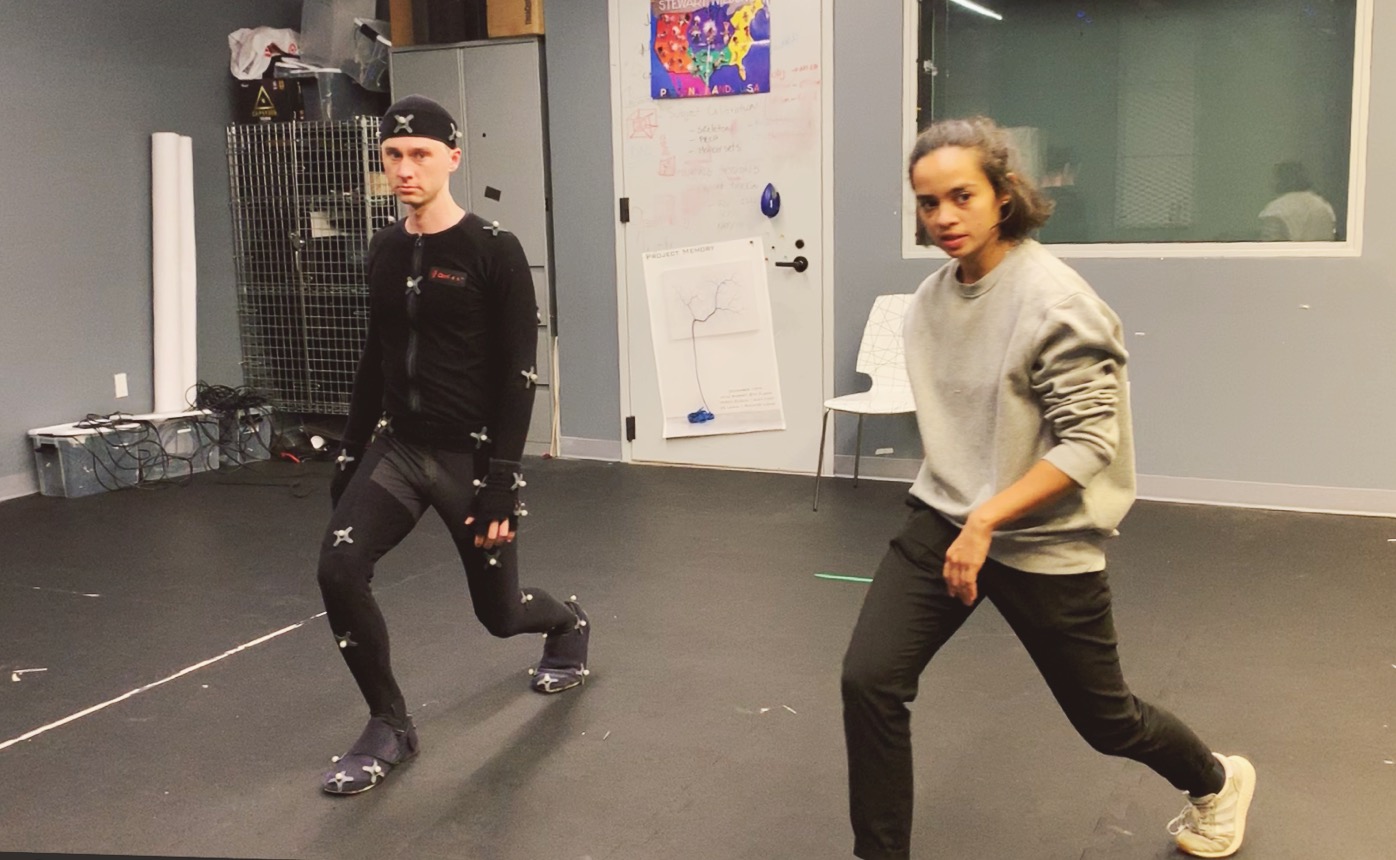 Motion Capture
As a team, we listed the movements we wanted Jake's avatars to perform. Fanni and I captured Jake's data at NYU Tandon's motion capture studio. We then divided production based on our expertise. Esther and Manuela worked with Jake on choreography and dramaturgy while Fanni and I developed everything on screen with UE4.
Animation
Using Maya, I rigged Jake's 3D model to give it a skeletal structure. Cleaned the data we captured with MotionBuilder and applied them onto the model.
Production
Through multiple on-site testing, rehearsals, critiques and iterations, we concluded production in three months.
Execution
We performed RunVR to 200+ audience of all ages at the IAC Building on November 30, 2018 as part of the ITP Big Screens Show.
Show recap
1 minute highlights from the show.
Reflection
Our piece was well received as we not only effectively bridge the visuals on screen with a live performance off screen but also successfully delivered the stories we wanted to tell.
Moving forward, we hope to attend festivals and conferences to showcase RunVR to carry on the discourses around body and belonging, digital intimacy and identity, fitness and beauty trends.
Credits
Visual & Tech: Kimberly Lin & Fanni Fazakas
Dramaturgy: Manuela Romero
Movement: Esther Manon Siddiquie
Performance: Jacob Robert
Sound Design: Rumex
Special Thanks: Todd Bryant, Taylor L Absher, Matt Romein, Jonathan Turner, Mimi Yin and Daniel Benyi.